Youth and Young Adult Ministries at the Cathedral
Youth and Young Adult Ministries at the Cathedral
The next gathering of our youth groups will be Monday, May 10th from 6:30-7:30pm. Everyone attending must wear masks and follow CDC protocols. To register your child for the youth programs, click HERE.
Junior Olympics
The Olympics are back, although in a restricted format due to COVID and that our usual venue of Stagg High School is not available this year. The following events for these ages groups will be held at Ss. Constantine and Helen in Palos Hills, IL on May 22-23: 7-9 soccer, 7-10 basketball, 11-13 basketball, 13-18 boys volleyball, 13-18 girls volleyball, 13-18 co-ed softball. If you would like to register your child to participate, please contact Pete Georgiadis at massow15@comcast.net or Kevy Paviadakis at kevy44@hotmail.com.
GOYA Lamb Raffle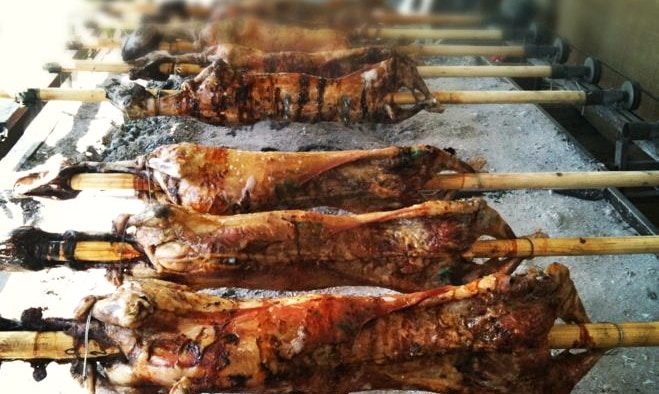 GOYA will be raffling off two Pascha lambs during the Lenten season to raise money for their scholarship fund. Tickets are $5 each or $20 for five tickets. Sales will begin at the Koulouma Dinner on Monday, March 15th and continue on each Sunday of Lent in the Hall lobby. Tickets can also be purchased online at https://tithe.ly/event-registration/#/3389608. The winners will be drawn on Palm Sunday, April 25th and will be announced on the church's Facebook Page and in the Sunday bulletin. Call Susan Tsagris at 219-617-4483 with any questions.
Jr. GOYA Prepares Easter Baskets for Families in Need
A huge Thank you to our Jr. Goyans for donating items to add to our Spring outreach program. They packaged 11 family Easter dinners and kids' Easter baskets that were donated to a local family shelter. Thank you also to the following Jr. Goyans not photographed: Mike Zaronias, Aiden See, Ari Bairaktaris, Maro Xidias, Nicholas Ward, Evan Vaupel, Trent Tillich, and Lucas Massow.
New Camping Ministry for Graduating Seniors
When young people make the transition to college life, they face a myriad of spiritual, social, mental and health related challenges. Lighthouse is a summer camp ministry of the Greek Orthodox Metropolis of Chicago designed to walk high school seniors through an Orthodox understanding of vocation, and arm them with the tools they need to hold fast to their faith during their college years. Camp begins this summer on June 26, 2021 at Marquette University in Milwaukee, WI. Registration for Lighthouse opens on February 17, 2021. For more information, visit www.chicago.goarch.org/lighthouse.